MicroMasters Program in
Data, Economics, and Design of Policy
Grapple with some of the world's most pressing problems from a rigorous, data-driven perspective.
Create Account
Notice:
The DEDP Program, previously known as the MicroMasters Program in Data, Economics, and Development Policy, underwent a name change in June 2023 to "Data, Economics, and Design of Policy'' to coincide with the launch of the new Public Policy Track and to reflect the expansion of the program's curriculum. For further details on the changes and what they entail for you, refer to our blog and FAQ articles.
About the MicroMasters Program in Data, Economics, and Design of Policy
MIT's Department of Economics and the Abdul Latif Jameel Poverty Action Lab (J-PAL) designed the MicroMasters® program in Data, Economics, and Design of Policy (DEDP) to equip learners with both practical skills and theoretical knowledge to address pressing global challenges. Taught by esteemed Economics faculty at MIT, including the program's faculty directors Esther Duflo, Abhijit Banerjee, Sara Fisher Ellison, and Benjamin Olken, the program offers graduate-level courses that combine the modern tools of economics and policy design with a strong foundation in economic and mathematical principles.

The core curriculum covers essential topics such as economics, probability and statistics, data analysis, and designing and running randomized evaluations to assess the effectiveness of social programs. Esther Duflo and Abhijit Banerjee, winners of the 2019 Nobel Prize in Economic Sciences and pioneers in development economics, contribute their expertise on methodologies for poverty alleviation.
The program's elective courses explore a range of key issues facing society today. These courses are organized into two distinct tracks: International Development and Public Policy.
The International Development Track allows learners to apply the tools acquired through the core courses to explore development issues that are most prevalent in low- and middle-income countries experiencing massive and persistent poverty.
The Public Policy Track will also require learners to rely on the tools acquired through the core courses, but to address a range of public policies, including both local issues and those that transcend geographic boundaries.
You can learn more about the requirements for each track in our relevant FAQ articles.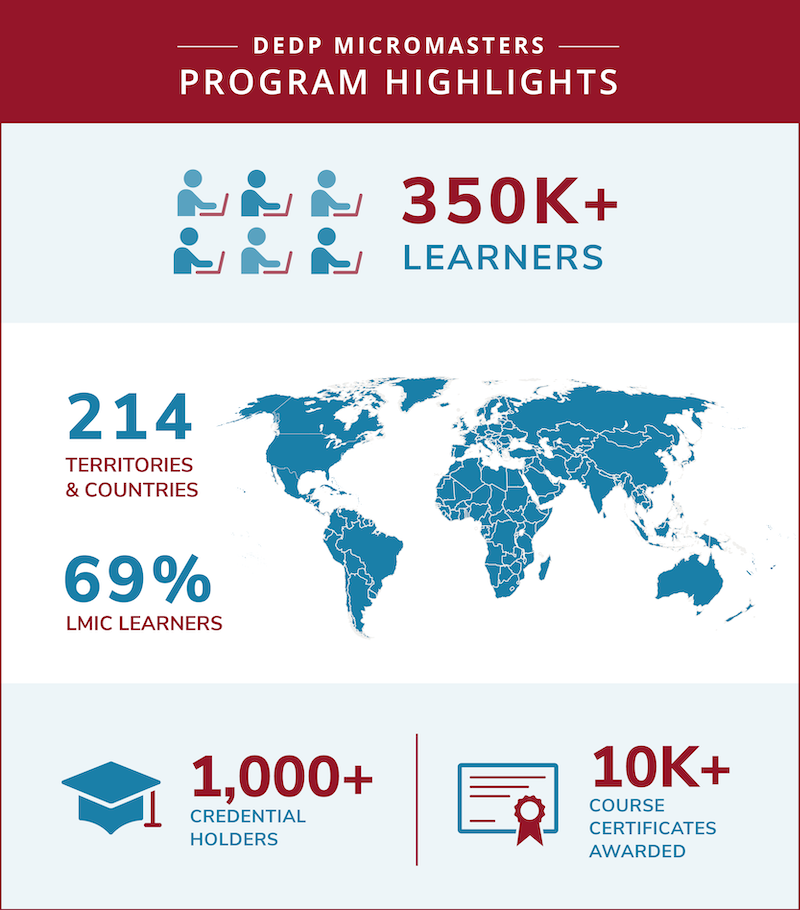 ---
Earn a MicroMasters Program Credential
Learners can enroll in courses for free on the Audit track or upgrade to the Verified (Paid) track to earn a certificate for each course. More information about course pricing is detailed below, and you can learn more about the two tracks in our FAQ articles.
Students who successfully pass five classes as well as a proctored exam for each class will receive a MicroMasters Credential from MITx. Whether you're interested in a career in development, public policy, or interested in graduate admissions, this certificate will signal your competence with advanced material. Learners who receive a MicroMasters program credential will be eligible to apply to a DEDP Master's program at MIT or pursue an accelerated degree at one of our pathway universities around the world.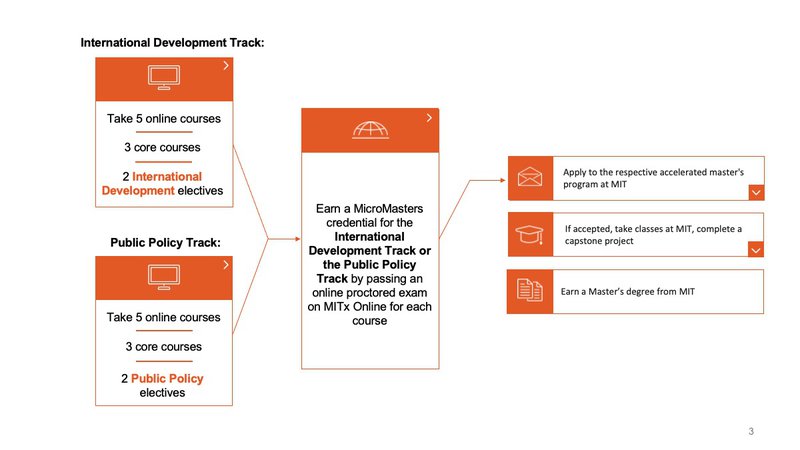 ---
Who should enroll?
Students interested in pursuing admissions to graduate programs in development economics, public policy, political science, or related fields
Mid-career professionals from governments, NGOs, international aid agencies, foundations, and other entities in the development sector
Academics and evaluators looking to re-tool and apply data-driven perspectives to social and development programs
Instructors and professors looking to incorporate new material in their courses
Anyone interested in these topics as life-long learners!
---
Benefits of the MicroMasters Program in DEDP:
Reach: Our courses are open to anyone with computer and internet access - there are no formal prerequisites. Anyone can participate!
Rigor: Courses offer the same challenge as residential MIT classes - and combine theoretical tools with practical skill-building.
Flexibility: Courses run between one to three times per year - you can spread out the coursework and exams based on your schedule.
Access: You are charged between $250 and $1000 per course - depending on your ability to pay. You can learn your personal course price directly through your MicroMasters program dashboard.
Credit: Learners admitted to the blended Master's program will earn MIT credit for their MicroMasters program courses.
---
Pricing for the verified track
If you choose to pay for DEDP courses, the course price is determined by your ability to pay. You will need to request financial assistance when you enroll in a course on MITx Online to receive a personalized course price. Learn more about course pricing, or enroll in a course to request financial assistance and calculate your own course price.
Annual Household Income:
$0 - $25,000: $250 USD per course
Over $25,000 - $50,000: $350 USD per course
Over $50,000 - $75,000: $500 USD per course
Over $75,000: $1,000 USD per course
We offer a limited number of $100 course price coupons to learners with an annual income of less than $10,000 USD. This group of learners is randomly selected in each term through a lottery system. Learners who are not randomly selected in the lottery will retain a course price of $250 according to the pricing tiers above. Learn more about the lottery in our relevant FAQ articles.
Future Course Dates
Spring 2024: starts Jan 16, 2024
Summer 2024: starts May 14, 2024
Courses delivered on